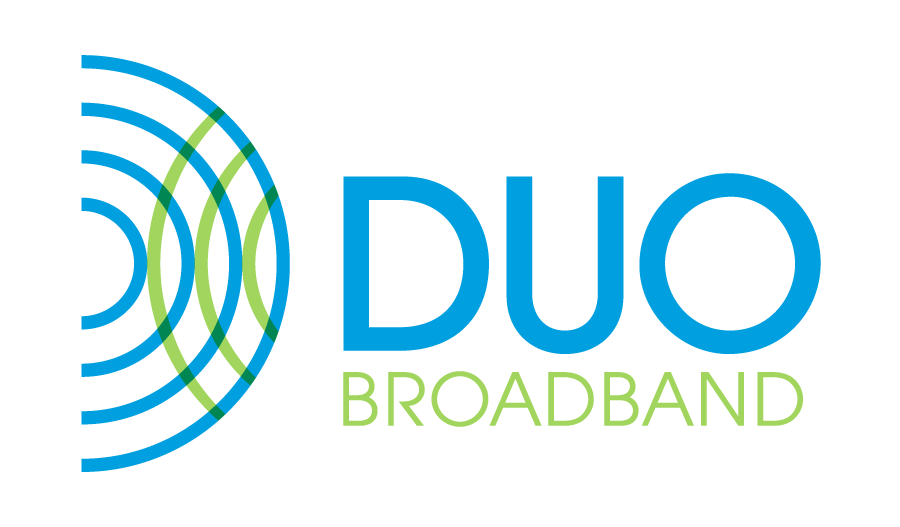 In an announcement this week, Duo County Telecom unveiled their new name and logo: DUO Broadband. Nothing else is changing for the utility and the same local people will be providing the same reliable communication and entertainment services they have offered for over half a century.
"Why a name change? It's been many years since we've only served two counties, and with our fiber optic Internet technology, broadband has become our largest and most popular service," said Eric West, Director of Marketing. "DUO Broadband reflects this new position. Of course, we still provide TV and Landline Telephone services."
The updated name and logo will be deployed over the next few months, beginning with the website which can now be accessed at DuoBroadband.com as well as DuoCounty.com. Current customer's email addresses will not be affected.
"This is not the first name change we've gone through," said Tom Preston, President and CEO. "We were originally known as Duo County Telephone, but that name became limiting with the addition of our other services. While today we are dropping 'County' for much the same reason, we are redefining 'DUO' to reflect our two most important assets: advanced fiber optic technology and reliable local service."
The logo puts emphasis on the DUO part of the name: technology and service, as well as keeping a historic reference to the company's past. The graphic arcs in the "D" were derived from ripples on the surface of water—symbolic of the way Broadband data disseminates and intersects. There is also a subtle representation of the earth in the "D" paying respect to the past logos which all visualized the globe.
"We want our customers to know that nothing else is changing," said West. "We will still be providing the same services. Our address, locations, and phone numbers are still the same. And DUO Broadband is still the most reliable service provided by your friends and neighbors."