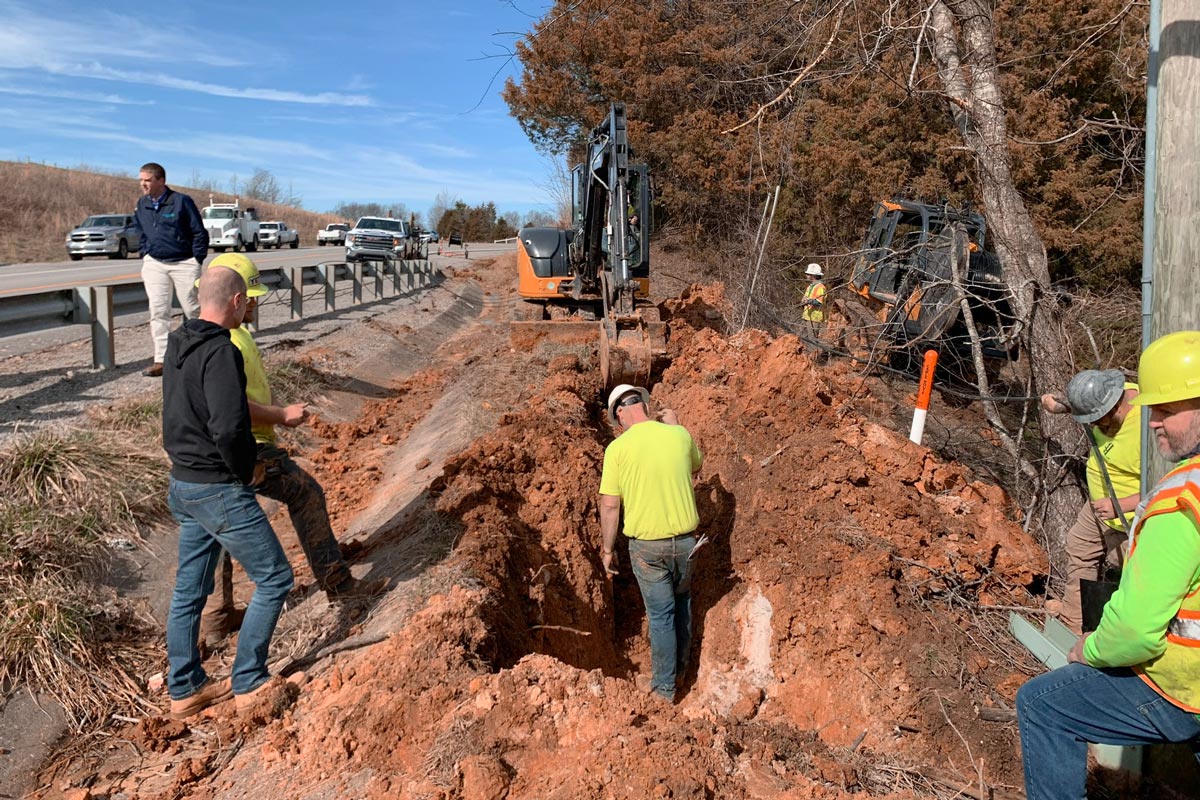 Brendan Carr, Commissioner of the Federal Communications Commission visited Adair County on Tuesday to see first-hand how DUO Broadband is helping to build out high-speed fiber optic broadband to rural America. Carr said it was "Great to see the progress they're making."
The Commissioner reported that the "crew here in Adair County is building out high-speed internet to homes that only have copper DSL for broadband. They're doing so with help from a 2020 award of $18 million." As one of the first telecom's in Kentucky to deploy fiber optic Internet, DUO Broadband was uniquely qualified to be part of this award.
Tom Preston, DUO Broadband CEO, Daryl Hammond, DUO Broadband Sr. Vice President and CFO as well as other company team members met briefly with the commissioner during his visit. "It's good to have a visit from top government officials," said Preston. "Getting down in the dirt and seeing the progress, hard work and resources that goes into laying fiber is important for decision makers in Washington, DC."
Bringing fiber optic broadband to underserved areas in Kentucky is a complex undertaking that will span several years and involve collaboration between multiple private and public entities. To ensure accuracy of the existing broadband maps and identify areas lacking sufficient coverage, the FCC's Broadband Data Collection program provides valuable tools to consumers. These tools allow for a more precise understanding of where service is currently unavailable or inadequate, helping to target resources and investments towards improving connectivity in the most needed areas.
"We encourage our area residents to go to Broadbandmap.fcc.gov to help us improve the accuracy of the information so that DUO can continue to extend fiber optic coverage for our local communities," said Preston. "It will help DUO Broadband in its efforts to secure grants to make fiber optic broadband available in rural communities that would not otherwise justify the tremendous expense of extending these lines to sparsely populated areas."
The FCC provides a video tutorial showing how to file location and availability challenges to the FCC's National Broadband Map from a computer at https://youtu.be/4ldS3bi4bjc.
DUO Broadband also offers a convenient tool on its website to check your address for broadband fiber Internet availability at DuoBroadband.com/internet.