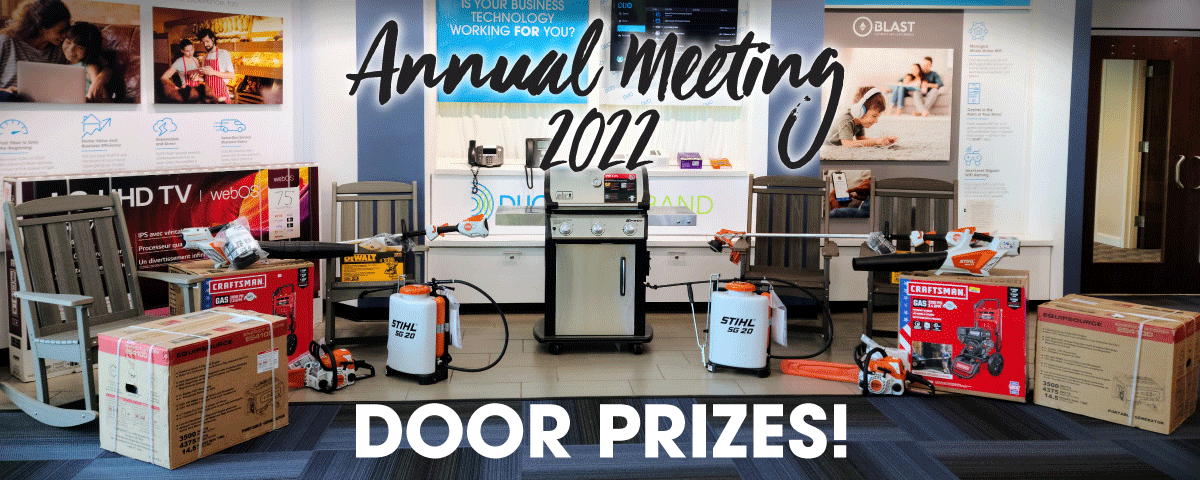 BE ONE OF THE LUCKY NUMBERS!
The Annual Meeting of the members of Duo County Telephone Cooperative Corp., Inc. will be held TUESDAY, JUNE 7, 2022 at 7:00 P.M. CDT (registration will begin at 6:00 P.M.) at the RUSSELL COUNTY HIGH SCHOOL gymnasium, located on Highway 127 between Russell Springs and Jamestown, for the purpose of electing Trustees and transacting such other business as may come before the meeting. In accordance with the bylaws, the Cooperative's Board consists of seven (7) Trustees. Three (3) Trustees are to be elected by the members at this Annual Meeting. The Nominating Committee met April 11, 2022 and nominated the following candidates to serve as Trustees, subject to the vote of the members:
Russell Springs Exchange – Randy Hart
Cumberland Exchange – William Norris
Jamestown Exchange – Sharon Hill
All cooperative members in attendance will be issued a number and will be eligible for a variety of valuable prizes.
This is your Cooperative. Your attendance and support are greatly appreciated.