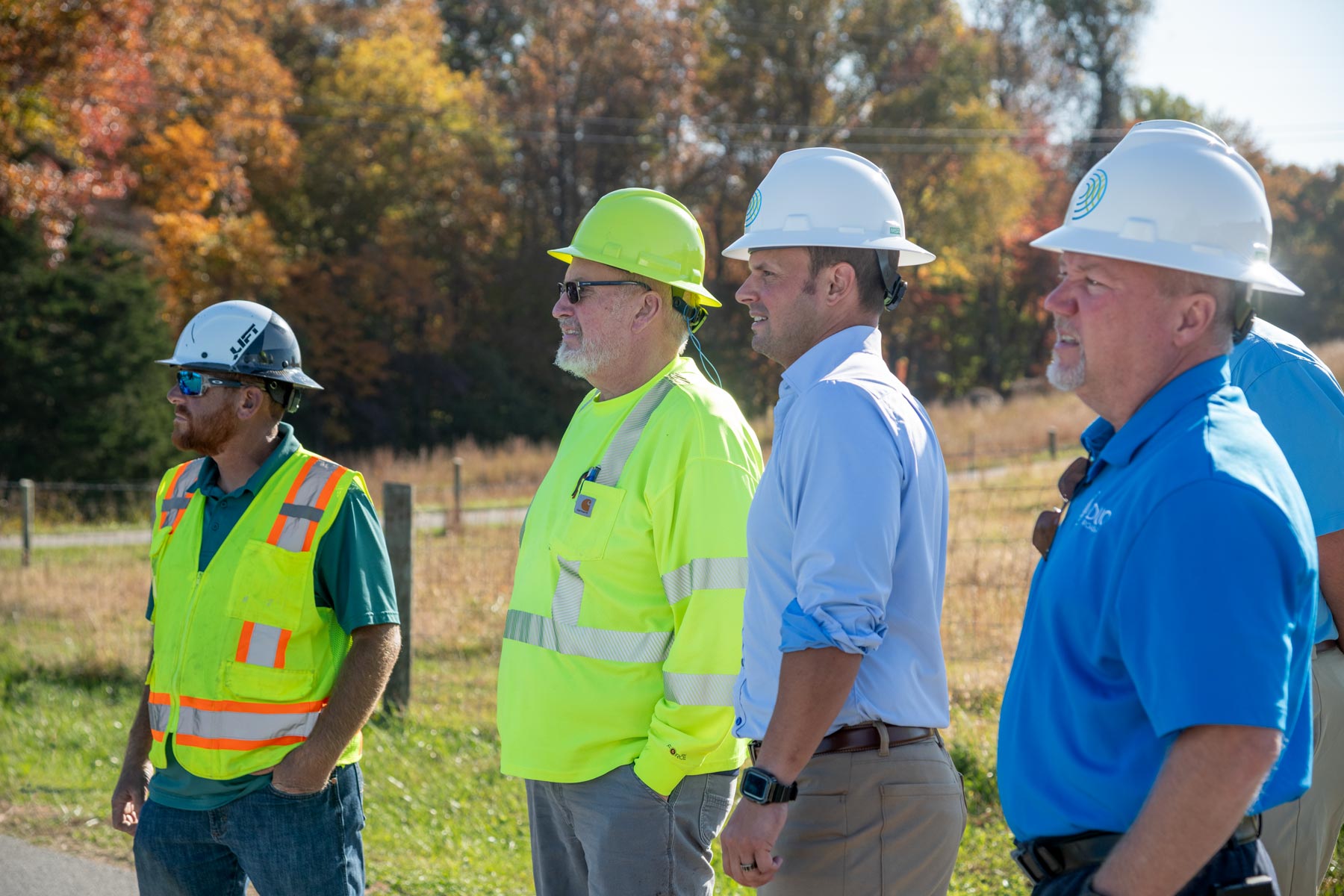 Kentucky State Representative Josh Branscum was in Russell County recently to get a first-hand look at progress on the Jabez community fiber optic expansion. The project is bringing gigabit broadband to the rural area with funding from a state broadband grant and matching funds from DUO Broadband, for a project total of 6.7 million dollars. The broadband grant program that came from the Kentucky state legislature and signed into law in April of 2021 selected Jabez and other underserved communities for broadband projects.
Essential Broadband
"If there was anything good that came out of COVID, it's that we've seen the importance of broadband," said Branscum. "You start looking at telehealth, if our kids have to work remotely for school, businesses, and just the things we do daily in our homes like watching television, or just getting on the Internet. It's just essential now."
Tom Preston, DUO Broadband CEO agrees. "Quality broadband is essential for participation in modern society," said Preston. "We really appreciate all Representative Branscum did to make this broadband grant program a reality in the state legislature. The residents and businesses in the Jabez community will benefit from this infrastructure investment for decades."
550+ Homes & Businesses Served
The Jabez expansion will ultimately bring fiber to 550 underserved households and businesses, with the system built to allow for future growth. "One of the first things people ask real estate agents is 'can you have high-speed Internet access at that particular address?' That's a key element for growth, for people to move into your community and be a part. It's vital infrastructure," said Eric West, DUO Broadband Director of Business Operations.
DUO Broadband was selected for this project because of the company's decades of experience in fiber optic networking. DUO Broadband was one of the first telecoms in the nation to begin building out a fiber optic broadband system.
"We're very fortunate, and I think sometimes we take it for granted in Russell County, that we have a company like DUO in our area," said Branscum. "It's people that you see, and you know. They're ingrained in the community and, when there are issues, people know who they can call."
Construction of the fiber expansion has moved rapidly, with the end of the build-out phase targeted for Spring of 2024. However, the end of construction will not mean people can be immediately hooked up to broadband. "When the construction ends, the testing begins," said Bryce Bailey, Engineering Manager for DUO Broadband. "We must test everything and prove there are no cut lines or problems in construction, and that it is a good product. That's normally about a two-to-three-month process. Once it's tested, we will get a list of every customer and schedule an installation date. We'll start at one point and just work our way down the line. Five, six, seven, eight a day."
Importance of Government Funding
Branscum is pleased to see the importance Kentucky has put on expanding broadband into underserved rural areas of the state. "We've made record investments into broadband, and I think we're going to continue to do so. That's been a focus of this legislature the past couple of budget sessions. It's been aggressive and I think we'll continue to be aggressive, focusing on that unmet need. Honestly, I hope we get to a point where we're having to project out even more of what the growth is going to be. When people are coming in asking about high-speed Internet and you've got it here, that's going to bring people here."
It's uncertain how long it would have taken for fiber to come to the Jabez community without funding assistance. "To build this absent the state grant program would have been extremely cost prohibitive leaving customers in this area without quality broadband for years," said Preston. "The program also allowed for matching funds from local government and the Russell County Fiscal Court stepped up to help out."
DUO Broadband currently has other fiber expansion projects including Adair and Cumberland Counties and is committed to seeking out additional fiber expansion funding as it becomes accessible. "DUO is going to continue, wherever and whenever possible, to apply for those grants and applications that both the state and the federal government provide," said West. "Where we can reach that last mile of that customer that's in need, we're going to try our best to apply and put good use to available infrastructure grant funds."