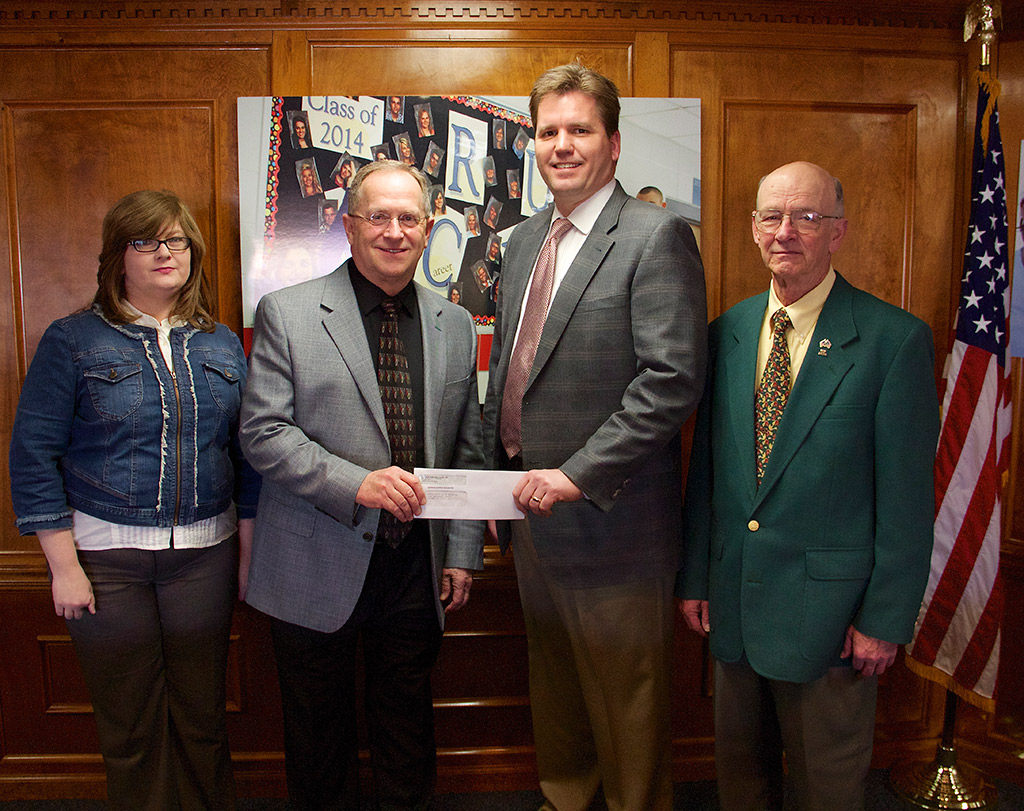 Pictured left to right: Carla Perkins, Adair County Schools Director of Technology: Alan Reed, Adair County Schools Superintendent: Thomas Preston, CEO of Duo County Telephone Cooperative: Joseph Sparks, Duo County Telephone Cooperative Board Member.
Columbia, KY – February 12, 2014 – Duo County Telecom announces a donation of $25,000 to the Adair County school district for technology upgrades. The school district welcomed the much needed funds as they are constantly facing the necessity to upgrade their technology infrastructure with limited resources.
Superintendent Alan Reed was excited about this commitment from Duo County. "Our school district, just like so many others, experienced massive budget cuts over the past 18 months. Every instructional program was adversely impacted due to those cuts. Technology has been no exception. Duo County Telecom, one of our most important regional industries, recognized that student learning is directly tied to their ability to access and use current technology. I cannot begin to explain how thrilled I was to learn that they are committing monetarily to our system and its students at such a critical time. This will affect the lives so many Adair County students and, in time, the local economy."
Directory of Technology for Adair County School District, Carla Perkins commented on the donation. "Many thanks to Duo County Telecom for the very generous donation of $25,000.00. This donation will be used to match technology funds that are currently held in escrow for a total of $50,000.00 to be spent for technology. Specifically, funds will be used to upgrade computers and to purchase other technology for student use."
Tom Preston, CEO, Duo County Telecom commented on this merits of this donation. "It's really hard to make it in this world if you are intimidated by technology. We hope local students will be able to approach a technology driven economy with confidence having been exposed to the latest innovations. Our board of directors was proud to be in a position to do this for the school district."
PLEASE NOTE: Equal donations made to other school districts within our service area.