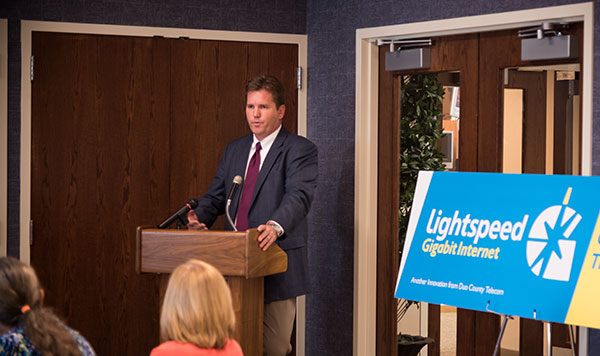 Tom Preston, Duo County Telecom's executive vice-president and CEO, announces Lightspeed G at the Russell County Chamber of Commerce luncheon hosted by Duo County.
Duo County Telecom has completed installing major portions of a new, state-of-the-art fiber-optic network that provides remarkably fast Internet service to homes in portions of Russell County and businesses within Jamestown, Russell Springs and Columbia.
Jamestown, Russell Springs and Columbia, are three of the first gigabit Internet communities in Kentucky and join just a few dozen gigabit communities across America.
The new service, named Lightspeed G, provides Internet speeds of up to 1,000 megabits per second (mbps) – or one gigabit – to Jamestown, Russell Springs, Columbia and Russell County's two business parks. Lightspeed G is available in those areas immediately and it will be offered to businesses and residents in other areas of Russell County as the network is expanded.
Lightspeed G will provide download speeds of 1 Gbps, which is more than 100 times faster than Duo County's current standard Internet service. While the obvious benefits of this speed include extremely fast movie downloads and rich online games, Russell County businesses that need to access cloud resources and download and transmit large data files will experience immediate results.
"Lightspeed G is an amazing advancement in the speed of Internet service available to residents of Russell County," said Tom Preston, executive vice-president and CEO of Duo County Telecom. "More importantly, Lightspeed G provides an economic development tool that will enable existing business sectors like automotive manufacturing and healthcare to grow their reach and scope of operations by taking advantage of Duo County's innovative technology."
"We are excited by what is developing in the handful of communities nationwide that offer gigabit Internet services and look forward to pursuing what it can mean right here in our own communities." Preston said. "Educational institutions in some of the rural areas are beginning to offer classes that have never been feasible in their small communities before. Healthcare facilities are beginning to provide immediate access to specialized care that just wasn't possible. And some communities are being recognized for recruiting, launching and growing entrepreneurs in advanced technology and information fields."
In 2010 Duo County Telecom announced it would begin building a fiber-optic network that would deliver lightspeed data signals to homes and businesses. Lightspeed G is made possible by a state-of-the-art network that contains three things: 1) all-fiber delivery, 2) cutting-edge network equipment, and 3) a solid path to the Internet backbone that can carry exponentially larger amounts of data than most services in the United States carry today.
[hmyt]https://www.youtube.com/watch?v=Vbgp-A_cxaw[/hmyt]