On or around March 10th, Duo County Telephone Cooperative will file with the KY Public Service Commission an increase in basic local service rates charged to residential subscribers due to a Federal Communication Commission mandate. With this change, residential rates are proposed to increase from $16 to $18. Business rates are unchanged with this filing. If approved by the PSC, the effective date of this rate change will be June 1, 2016. We anticipate the average residential bill increase being less than 3% while for many of our members, there may be an actual reduction in their bill based on their calling patterns. Subscribers to our optional Area Wide and Community calling plans will no longer be billed for those services and will have immediate reduction in their telephone bill.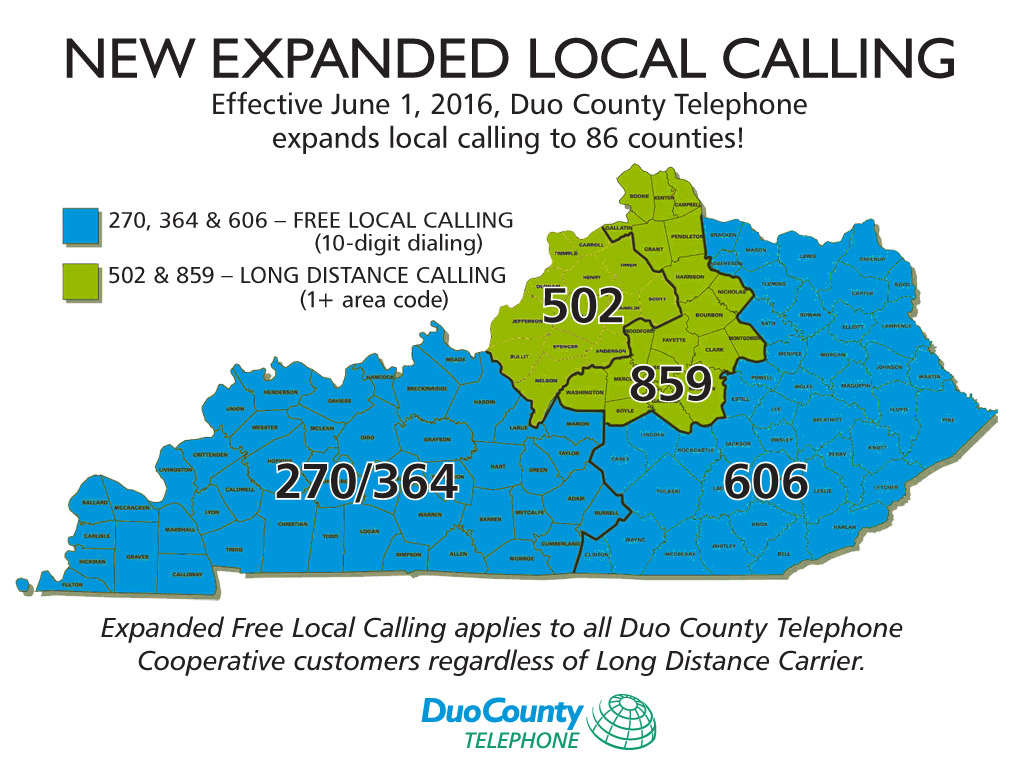 With this change all calls to area codes 270, 364 and 606 will become local calls providing a significant larger local calling area for all of our members. (Click map to enlarge image of expanded local calling scope for Duo Telephone customers.)
This increase is mandated by recent changes enacted by the Federal Communications Commission which set minimal local service rate levels as a condition of continued receipt of federal high cost support that allows Duo to deploy fiber optic facilities and support advanced voice and broadband services. Because this support is vital to the economic health of our community, Duo had no choice but to request this rate increase.
You may examine this application at the offices of Duo Telephone located at 2150 North Main Street, Jamestown, Kentucky 42629 during regular business hours or at the offices of the Kentucky Public Service Commission located at 211 Sower Boulevard, Frankfort, Kentucky, Monday through Friday, 8:00 a.m. to 4:30 p.m., or through the commission's Web site at http://psc.ky.gov.
Comments regarding the application may be submitted to the Public Service Commission through its Web site or by mail to Public Service Commission, Post Office Box 615, Frankfort, Kentucky 40602. Rates contained in this notice are the rates proposed by Duo but the Public Service Commission may order rates to be charged that differ from the proposed rates contained in this notice.
You may submit a timely written request for intervention to the Public Service Commission, Post Office Box 615, Frankfort, Kentucky 40602, establishing the grounds for the request including the status and interest of the party. If the Commission does not receive a written request for intervention within thirty (30) days of initial publication or mailing of this notice, the Commission may take final action on the application.